Blog
Admidio 4 is here
Admidio 4 is here and ready for you to download. We hope you enjoy the new design and the new features.
Go to our download page and get your version.
Feel free to leave feedback in our forum.
What is new?
New theme
Probably the most obvious innovation in Admidio 4 is the completely new Theme Simple. It replaces the meanwhile outdated Theme Modern. In the course of this we have reworked and partly redesigned all pages. This is the first thing you notice in the new overview page, which is displayed directly. Here you can see all the plugins that have been delivered with the standard version.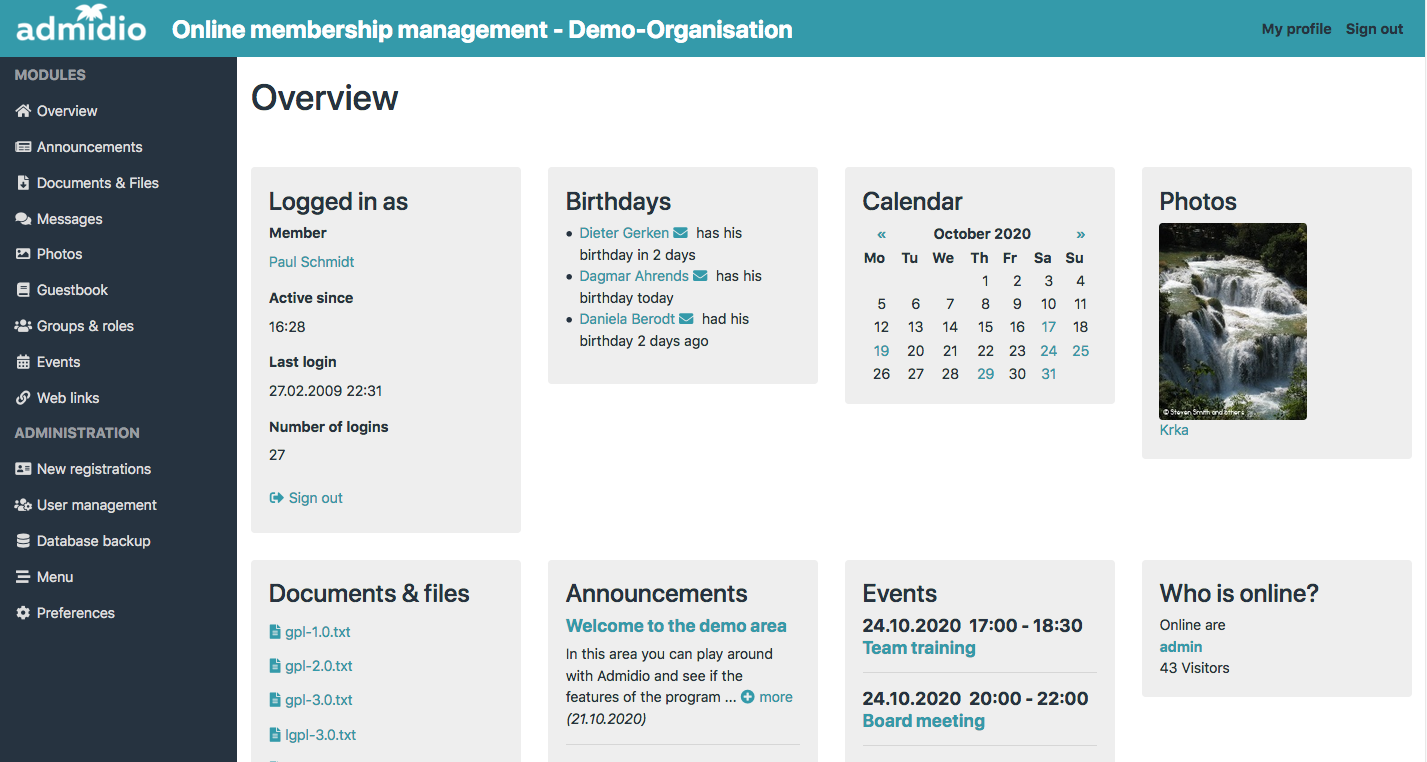 Template Engine
In addition to the new theme, we also integrated a tempo engine and changed the page header, the navigation menu and the page footer to it. The respective content of the page, e.g. the dialog or the list, has not yet been changed to the new theme. Nevertheless we think that with the previous implementation you already got a lot of new freedom to adapt Admidio to your needs. A more detailed description of the possibilities of the redesign can be found in our Wiki.
Groups and Roles
We have now combined the previous modules Lists and Role Management into the Groups and Roles module. Both modules were already very similar and had overlapping functions. With the new module we think that the handling is easier and the understanding of Admidio is even faster.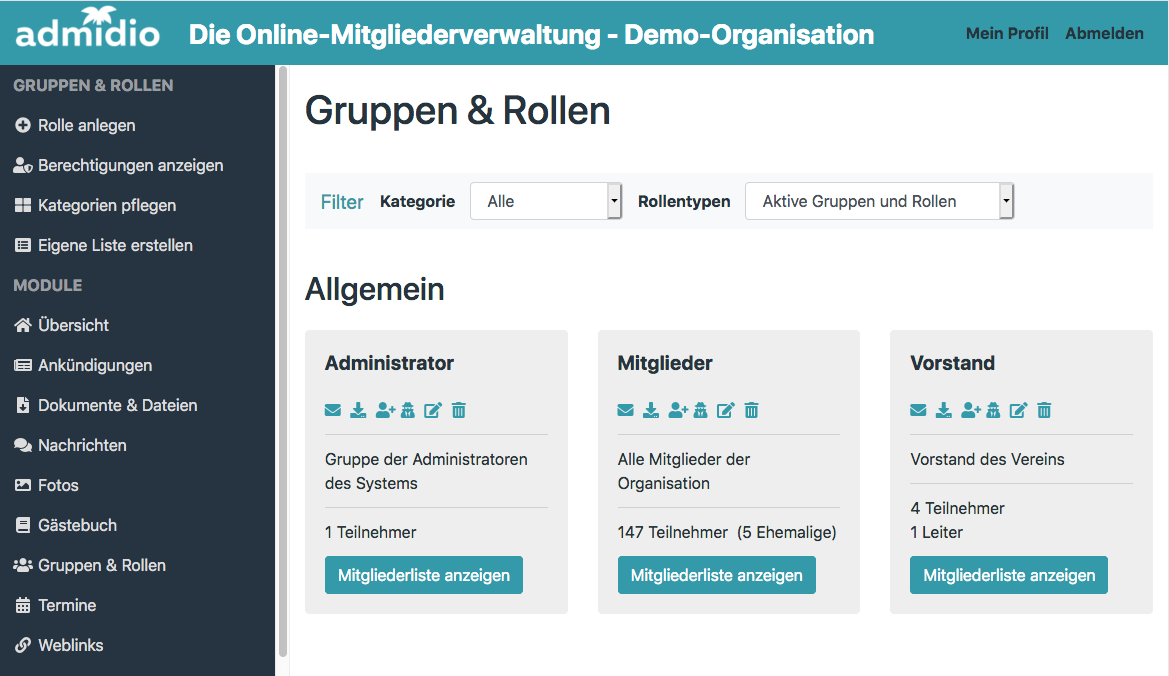 E-mail templates
E-mail templates have been available in Admidio for a long time. In version 4 we have improved the integration and given you more flexibility. You can now easily select the stored templates in the settings, and with new variables you can design them better. Have a look at our Wiki page. With the new variables it is also possible to send e-mails even easier and more DSGVO-conform with hints to the recipients.
Further modifications
The Downloads module has been renamed to Documents & Files. The range of functions has remained.
The layout of the photo module's album overview has been revised.
The Birthday Plugin can now be used with PostgreSQL.
New languages Greek, Swedish and Portuguese (Brazil) were added.
Change to Bootstrap 4, jQuery 3 and Phpmailer 6
Caching of the menu and less database access
You can find a detailed list on GitHub
Support for PHP8
Minimum requirement for Admidio is now PHP 5.6 and still MySQL 5.0 or PostgreSQL 9.0
We are curious about your feedback. If you have small suggestions for improvements to new or existing features, just let us know in the beta forum.
Many greetings
Your Admidio Team
-------------------------------------------------------------------------------------------------------------
Admidio 4 ist da und kann von euch heruntergeladen werden. Wir hoffen ihr habt viel Freude an dem neuen Design und den neuen Funktionen.
Geh auf unsere Downloadseite und hol dir deine Version.
Rückmeldungen könnt ihr gerne in unserem Forum loswerden.
Was ist neu?
Neues Theme
Die wohl offensichtlichste Neuerung in Admidio 4 ist das komplett neu erstellte Theme Simple. Dieses löst das mittlerweile in die Jahre gekommene Theme Modern ab. In diesem Zuge haben wir alle Seiten überarbeitet und teilweise auch umgestaltet. Dies fällt als erstes in der neuen Übersichtsseite auf, welche euch direkt angezeigt wird. Hier sind alle bisherigen im Standard ausgelieferten Plugins aufgelistet.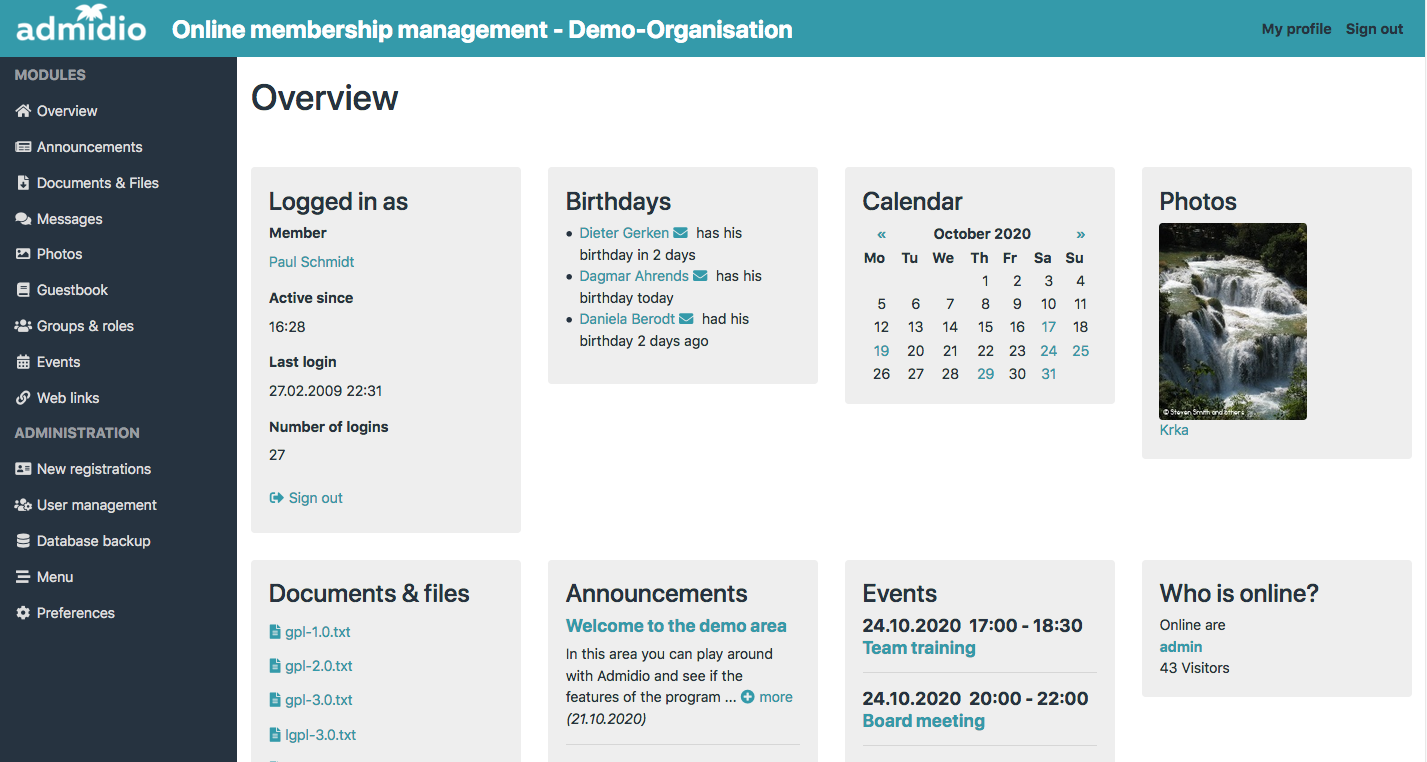 Template Engine
Neben dem neuen Theme haben wir auch eine Tempate Engine integriert und den Seitenkopf, das Navigationsmenü und den Seitenfuß darauf umgestellt. Der jeweilige Inhalt der Seite, also z.B. der Dialog oder die Liste wurden noch nicht darauf umgestellt. Dennoch denken wir, dass ihr mit der bisherigen Implementation bereits sehr viele neue Freiheiten bekommen habt, Admidio an eure Bedürfnisse anzupassen. Eine detailliertere Beschreibung zu den Möglichkeiten der Umgestaltung findet ihr in unserem Wiki.
Gruppen und Rollen
Wir haben die bisherigen Module Listen und Rollenverwaltung jetzt zusammengefasst in das Modul Gruppen und Rollen . Beide Module waren sich bisher schon sehr ähnlich und hatten überschneidende Funktionen. Mit dem neuen Modul denken wir, dass die Bedienung einfacher wird und das Verständnis für Admidio noch schneller da ist.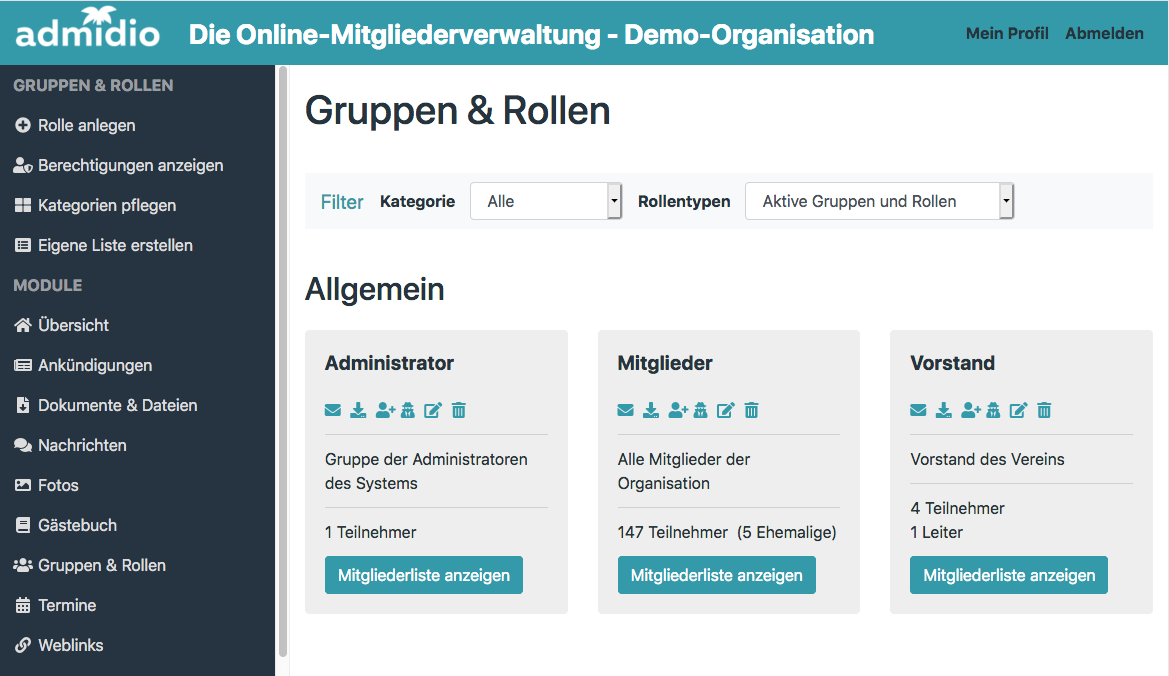 E-Mail-Templates
E-Mail-Templates gab es schon seit längerem in Admidio. In Version 4 haben wir die Integration verbessert und euch mehr Flexiblität gegeben. Ihr könnt die hinterlegten Vorlagen nun einfach in den Einstellungen auswählen, sowie mit neuen Variablen besser gestalten. Schaut dazu mal auf unsere Wikiseite. Außerdem ist es mit den neuen Variablen möglich E-Mails noch einfacher DSGVO-Konform mit Hinweisen zu den Empfängern zu versenden.
Weitere Anpassungen
Das Modul Downloads wurde in Dokumente & Dateien umbenannt. Der Funktionsumfang ist geblieben.
Das Layout des Albenübersicht des Fotomoduls wurde überarbeitet.
Das Birthday-Plugin kann jetzt mit PostgreSQL genutzt werden.
Neue Sprachen Griechisch, Schwedisch und Portugiesisch (Brasilien) wurden hinzugefügt.
Umstellung auf Bootstrap 4, jQuery 3 und Phpmailer 6
Caching des Menüs und weniger Datenbankzugriff
Eine detaillierte Liste findet ihr auf GitHub
Unterstützung von PHP8
Mindestvoraussetzung für Admidio ist jetzt PHP 5.6 und weiterhin MySQL 5.0 oder PostgreSQL 9.0
Wir sind gespannt auf euer Feedback. Falls ihr zu neuen oder bestehenden Funktionen kleinere Verbesserungsvorschläge habt, so gebt uns im Beta-Forum einfach Bescheid.
Viele Grüße
Euer Admidio-Team